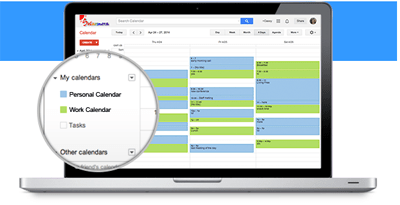 Google:[Calendar Tip]: Manage work and play with Google Calendar
All your commitments, at a glance
Is it hard to keep track of your commitments because they're on different calendars that don't sync? Create one calendar for meetings and deadlines, another for barbecues and checkups. Then overlay them to balance work and life.
| | |
| --- | --- |
| Step 1: | Click the drop-down arrow next to My calendars on the left side of your Google Calendar, then select Create new calendar. |
| Step 2: | Name your calendar, choose your sharing settings and click Create Calendar. |
| Step 3: | When you create an event, add it to the relevant calendar by selecting its name from the drop-down menu. |
| Step 4: | To overlay multiple calendars, select them under My calendars on the left side of the page. |
Want to learn more tips and tricks? View the full series here.
Google Apps for Work Tips and Tricks 3 of 8
Use these tips to inspire your referrals and introduce them to the benefits of Google Apps for Work. And don't forget to pass along your referral link (http://goo.gl/9d8rGD) so they can sign up for a 30-day trial.